Christine Crook and Imogen Miller commenced their training partnership in 2015, and they haven't looked back. Based in Campania in Tasmania, approximately thirty minutes outside of Hobart, the pair have established an operation that combines world class facilities and an environment that is best described as horse heaven. Set on 100 acres of purpose built thoroughbred facilities Christine and Imogen have a 1400m sand track, a undulating hill track, first class swimming pool and have access to the famous 7-mile beach. In addition, just a short drive down the road is access to quality grass gallops at the nearby Hobart racecourse. A combination of on-site facilities, access to the soft sand and salt water at the beach and the Hobart course proper proved the training partnership with everything they need to deliver a high class training operation.
Imogen's passion is the satisfaction of preparing a horse and then watching them put it all together with a win - 'a great thrill' as simply put by Imogen. The team recently made the trip over to the mainland and picked up the Listed Vic Country Championship with Tshahitsi. This was a huge thrill for Christine as she bred the horse herself and a real thrill for the team as it not only proved they can mix it with the best in but also put the processes in pace to allow them to successfully travel their horses in search of the bigger prize money.
The Tasmanians currently have a team of 20 horses , an ideal number to ensure each individual gets the required amount of attention to ensure they are trained to their needs and cared for to enable them to fulfil the best of their ability. Imogen makes a point that they tailor each horse's training to suit that particular individual and can keep a very close eye on the progress of each thoroughbred, making necessary changes to their training regime as required along the way.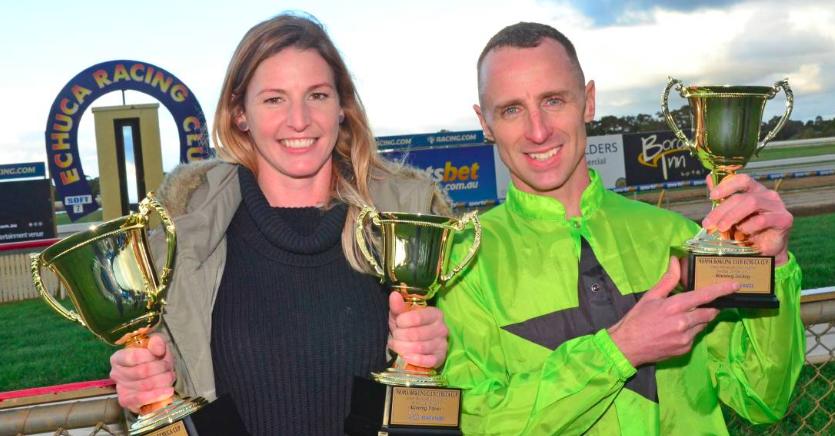 Image Courtesy of examiner.com.au
Upcoming Runners
Horse
Date
Race
Track
Fields/Form
Acceptances
Rohzhae
Dec 03
1
Devonport Synthetic
Field/Form
Recent Winners
| Horse | Date | Race | Margin | Jockey |
| --- | --- | --- | --- | --- |
| Fighting Floyd | Nov 14, 2021 | 3 - Hobart | 0.50 | Brandon Louis |
| Algernon | Nov 02, 2021 | 1 - Hobart | 2.50 | Brandon Louis |
| Fighting Floyd | Oct 06, 2021 | 3 - Launceston | 0.30 | Brandon Louis |
| Algernon | May 02, 2021 | 6 - Hobart | 0.20 | B Mc Coull |
| Algernon | Mar 28, 2021 | 8 - Hobart | 1.00 | B Mc Coull |
| Fighting Floyd | Jan 08, 2021 | 3 - Launceston | 0.10 | B Mc Coull |
| Algernon | Nov 03, 2020 | 3 - Hobart | 0.50 | Brandon Louis |
| Algernon | Jul 19, 2020 | 3 - Hobart | 2.50 | B Mc Coull |
| Stick 'em Up | May 02, 2020 | 1 - Newcastle | 2.00 | K S Latham |
| Stick 'em Up | Oct 25, 2019 | 4 - Canberra | 2.00 | R Dolan |
| Scrutineer | Oct 20, 2018 | 7 - Hobart | 3.80 | B Muhcu |
| Scrutineer | Aug 05, 2017 | 7 - Moe | 0.20 | Ms G Cartwright |
| Scrutineer | Nov 30, 2016 | 8 - Launceston | 0.50 | A Darmanin |
| Scrutineer | May 08, 2016 | 1 - Hobart | 0.50 | B Muhcu |